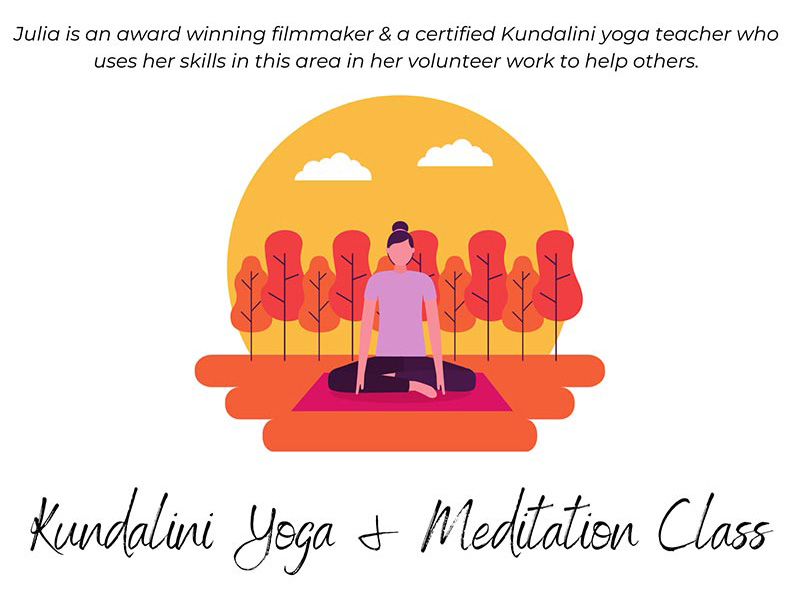 KUNDALINI YOGA – UNBLOCK YOUR CREATIVITY
HOSTED BY FILM PRODUCER JULIA VERDIN
JOIN US EVERY SUNDAY AT 10:00 AM Pacific Time (US and Canada)
Meditations will be focused on having confidence in our individual voices and skills. How do we want to be of service to the world, our communities in 2021 and how could we use our voices for good?
What you need – a yoga mat or soft floor, water and comfortable clothing.
Join Us!
This Yoga Session is FREE to anyone. To RSVP, please select "Register For Event"
What Others Say!
"Julia's unblocking your creativity class was amazing. I loved the Kundalini yoga exercises, particularly your introduction to a conscious breathing practice. I felt very much connected during your class, thanks to your flow, presence and energy. I noticed a large difference in my energy level after as I felt energized, focused and got more than average work done. Thank you!"
—Agnes Delfosse
"I wasn't sure exactly what this class was when I signed up but knew I needed to get rid of a writers' block moment. This class was fantastic, suddenly it all made sense and I was buzzing and excited to get back to some writing after it. And Julia is one superb teacher. The rest of my day and the following one, I felt really inspired, got straight back into my writing and was delighted with the results. I can't wait for the next class and plan to take these regularly. I highly recommend it."
—Mickey Wynne, musician
Register For Event